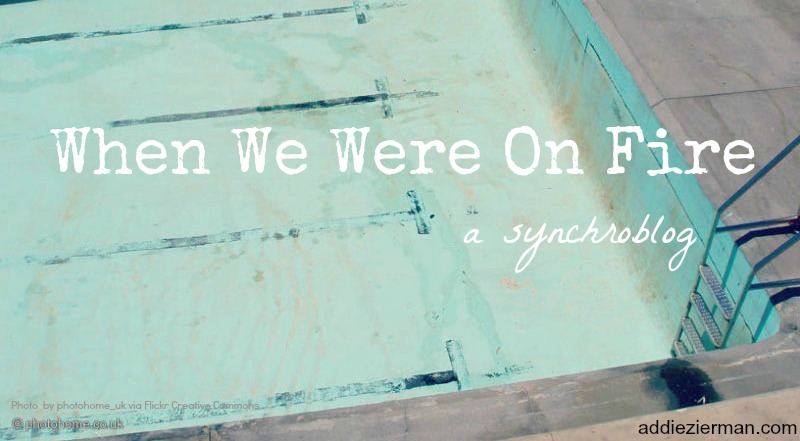 This week, author and blogger Addie Zierman is hosting a syncroblog for those of us with stories from the days we were were on fire, for Jesus, so to speak. This little story from my on fire days is one I've been carrying around in my heart for a while now, so I'm grateful for the chance to share it. I hope you'll visit the synchroblog and read some of the other stories. Also, I hope you'll get ahold of Addie's new memoir, When We Were on Fire. As I've said before, it's a beautiful, important read.
***
At 16, when I was on fire, my family moved to a new town in the flat plains of middle Tennessee. It was January, during my first moments at my new school, when I met Mary Beth in the front office. We were both brand new and waiting to get our photos taken for our school IDs. We chatted for a bit, discovered we had a class in common, and vowed to sit together. It wasn't long before she was giving me rides home in her beat up coupe, with punk music blasting and a cigarette hanging out the window. She wasn't the friend I was looking for, but she was truly one of the kindest I've ever had.
Later on the first day, I walked nervously into my advanced theatre class, to find little clusters of students smattered about the room. Before long, I was fielding questions about where I was from and why we had moved and what the theatre program had been like at my old school. A few days later, as we sat together on stage working on a new set, my still-closeted, very talented scene partner invited me to hang out with him and a few other drama geeks after school. After that I spent the rest of the semester eating lunch with one of the most wonderfully flamboyant, dramatic, eccentric groups I've ever been blessed to be a part of: gay and straight, Catholic and atheist, honor students, partiers, and a girl who persisted on scrawling "penis" on the board before nearly class, just for the joy of our teacher's reaction. They weren't the friends I was looking for, but they drew me in like family.
The next year, I found my senior English class somehow filled with all the popular Christian kids, the ones who led student government and never got in trouble or said an unkind word about anyone. Some of them had been smattered throughout my classes the previous semester. I had been able to identify them because they were always hanging around before the bell rang talking about youth group and Sunday mornings. I had kept my eyes alert and my posture open, ready to respond to the first subtle invitation to conversation, or, better yet, a church event. None ever came, and by the time I entered my senior year, we were living in different worlds. They were the friends I had been looking for, but they weren't the ones I got.
A year or two later, I was studying English and theatre at a local state university, still on fire in my own way and attending the same church my family had called home for the past few years. One Sunday, the pastor asked us all to agree to vote yes on a proposed amendment to the state constitution that would ban gay marriage. I stood up quietly and walked out, not so much out of anger as sadness. Because despite the smiling faces and welcome arms, I knew my church was not a place where my friends from theatre could ever truly be safe.
Until now, I never dared admit to anyone but my husband that I voted no.
I've been thinking a lot about the origins of my doubt lately, this cloud that's been hanging over me for nearly five years now. I've been thinking about these events and other like them, that paved the way for my doubt long before it began. And I've come to the conclusion that I'm better off for having experienced them. I'm better off for interactions, however brief, with those who made me question my own worldview, who took my preconceived notions and flipped them upside down, shaking them around until I couldn't tell top from bottom.

If I could go back in time, I would thank them all, every single one. I would say thank you for befriending me, or not, because it took me to the place I needed to be. Thank you for welcoming me, or frustrating me, or saddening me because it led me away from a world of black and white, and easy answers. It gave me the compassion to put out the flames that had gone on singeing those around me for far too long, and it helped me to find warmth even in the midst of my own darkness.